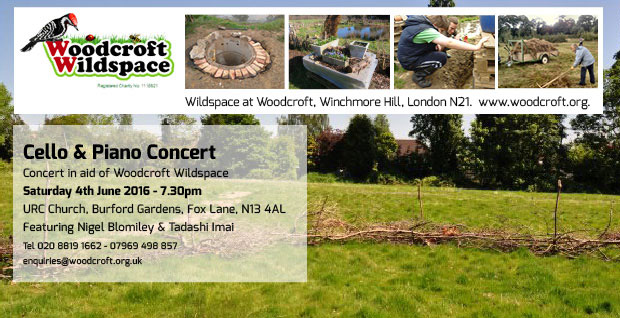 Concert in Aid of Woodcroft Wildspace
4th June, 2016
If you enjoy the music of Brahms and would also like to support Woodcroft Wildspace, this is the concert for you.
The poster below provides the details about the concert to be played by distinguished local cellist, Nigel Blomiley, Former Principal cellist of the BBC Concert orchestra, who is joined by his internationally acclaimed colleague Tadashi Imai to support this great cause.
Date – Saturday 4th June
Time – 7.30pm
Venue – United Reformed Church, Fox Lane, Palmers green, N13 4AL
Tickets are available in advance at £10 each from Woodcroft Wildspace, 40 Orpington Road, London N21 3PG. Please enclose a stamped addressed envelope with your cheque, payable to "Woodcroft Wildspace" by 27th May. Tickets will also be available for £12 each on the door.
Tickets may also be collected from Woodcroft Wildspace between the hours of 10am and 12 noon on any Tuesday, Friday or Saturday morning when you can also take the opportunity to see the work of the volunteers first hand.
We look forward to welcoming you together with friends and family to this evening of Brahms Cello Sonatas.