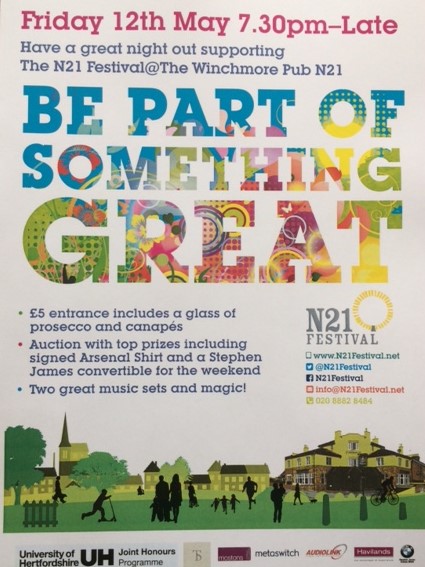 The N21 Festival fun night out at The Winchmore Pub, N21
12th May, 2017
Those lovely people Eimear and Mark at The Winchmore have kindly allowed the N21 Festival to take over their pub on Friday 12th May from 7:30 pm to raise funds for the Fancy Fair, the biggest event in the Winchmore Hill calendar.
Entry is £5.00, which includes a glass of prosecco and canapés.
It will be a fun night for all beginning with magic and a harpist. There will be 2 full music sets, Gin specials, comedian, merriment and an auction to raise money for the event.
Auction items include
A signed Arsenal Shirt
A brand new convertible car for the weekend supplied by Stephen James Enfield.
A visit to the house of commons and tea with our MP David Burrowes, sponsored by Havilands Estate agents
A CD signed by our very own ex-resident Cliff Richard
Come along, have fun and raise money for the best day in N21. It will be a great night out.
To make sure of your place, or for more details of the event Click Here to Buy Tickets or get them on the door on the evening
Many thanks to The N21 Festival Sponsors: Tessa Stevens Health and Beauty, The University of Hertfordshire, Havilands Estate Agents, Metaswitch, The Winchmore, Stephen James Enfield, Mostons Accountants
The Fancy Fair will take place on Winchmore Hill Green on Saturday 8th July 2017 from 10:00am to 7.00pm and will be the biggest and best event yet.
W: www.N21Festival.net F: www.facebook.com/N21Festival T: @N21Festival
E: info@N21Festival.net M: 07979853520 T: 02088828484
Short Link to buy Tickets : http://bit.ly/2p0DeM6