Gold Award For Locally Loved Estate Agent, Havilands
Posted: Feb. 06 2021 | Author: Star Molteno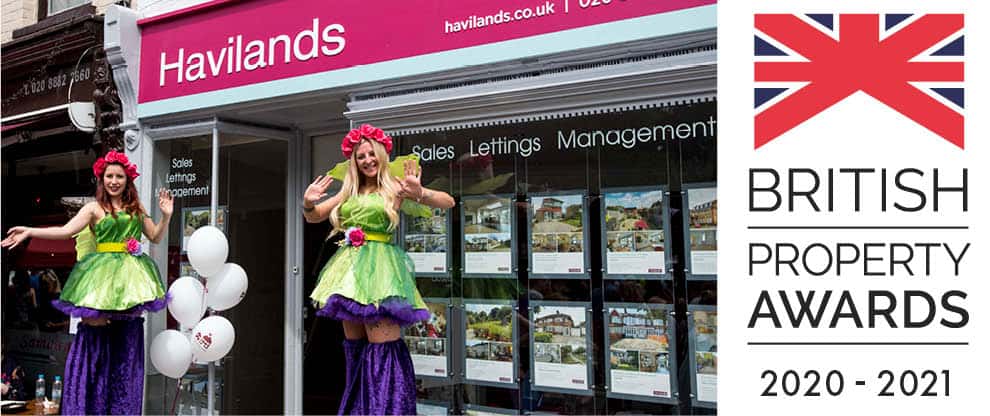 Recognition for outstanding levels of customer service
In our current climate, where uncertainty prevails it is uplifting to be able to celebrate a local business that has won an award for exceptional customer service.
In the green heart of north London, a locally loved estate agent has been awarded Gold at the Annual British Property Awards. This is in recognition of their outstanding levels of customer service in their lettings work.
The winning agency in a particular area is decided on the results from a team of mystery shoppers posing as customers. In a two-stage process of elimination, the mystery shoppers approach every agency and report on the quality of their experience following 25 criteria. On the back of this distinctive method, the BPA is highly recognised as the most inclusive estate agency awards and highlights the work of agents who go that extra mile to deliver a personalised service for the customers.
"..our awards have been designed to remove any opportunity for bias and manipulation. If an agent has been attributed with one of our awards, it is simply down to the fantastic customer service levels that they have demonstrated across a prolonged period of time" Robert McLean, British Property Awards
A local gem
Situated at the heart of the N21 community, Havilands' 40 years of neighbourhood involvement gives them an unparalleled insight into the local market. Couple this with the warmth and understanding of the experienced staff, and it's clear why they were singled out for the award.
Havilands' built their reputation on sales, and have been developing and expanding their lettings business over the years. Their ability to pivot, and evolve as times change, is a key to their longevity as a business, and could serve as a beacon for small businesses struggling to adapt to the current context.
House hunting with confidence
Since the first lockdown of March 2020, the housing market has been one area which continues to flourish. Months of unprecedented levels of housing demand and property transactions pushed UK house prices to increase by an impressive 7.3% during the year. Everyone wants to improve their home setting and that has kept momentum going in lettings too.
Winning customers' trust has always been a concern for any business but under Covid-19 this has been pushed to the forefront. Customers' concerns over the safety of house hunting in this time were directly addressed by Havilands, who were quick to inform clients of new procedures and the safety precautions they were taking.
Andre Chris, the founding owner of Havilands, says 'We are delighted to receive this recognition for our hard work, and to make 2021 a great year for anyone looking to move in and around N21. We are here to make this a smooth and enjoyable process.'
Strength to strength
On the back of this win, Havilands have now been shortlisted for a number of national awards which will be announced shortly.
N21 should be proud to have such excellence on their doorstep.